Melbourne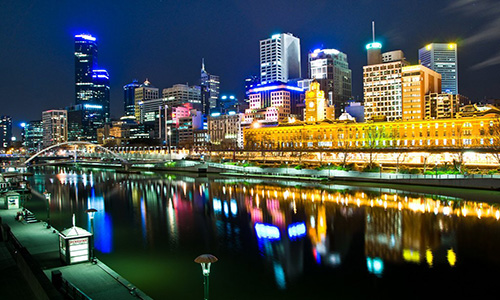 Melbourne has been compared favourably with London, New York and Paris – and for good reason.

Melbourne is passionate about it arts, sport, food and wine. Known as the cultural capital of Australia, with glorious, tree lined shopping boulevards, diverse and challenging theatre, outstanding international art exhibitions, bustling markets, old fashioned trams and outdoor gay friendly cafes. And when all this highbrow entertainment starts to get a bit much for you, simply jump on the tram for ten minutes and hop off at St Kilda Beach where the eternally young and free of Melbourne like to play.

Take a romantic stroll along the promenade, sip a cocktail or two or simply sit on the sand and watch the light disappear. Melbourne hosts several high profile sports events throughout the year, so if that isn't your thing its best to check that your stay doesn't clash with any of these as hotel rooms fill up very quickly.

Even if it doesn't initially appeal to you it's definitely worth going to catch an 'Aussie Rules' match at the enormous MCG. Sitting back and watching over 30 muscle bound men in very tight shorts sprinting around a large patch of grass is a great way to spend a few hours in the afternoon. Many visitors to Melbourne choose to hire a car and spend a few days travelling the great ocean road up towards Adelaide. If this doesn't fit into your plans it is still worth spending the day travelling up part of the road to visit the famous Kangaroos at Torquay, the various surf beaches dotted along the coast and the stupendous Twelve Apostles which jut out of the sea in spectacular fashion.
Melbourne
Sorry, no hotels can be found at this time.