Krabi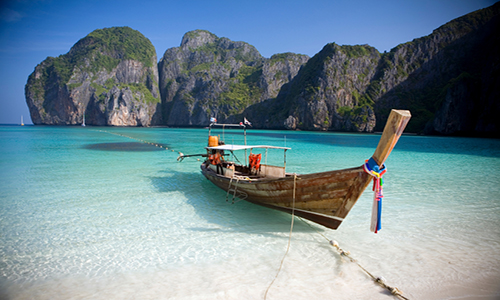 Krabi is an area of turquoise sea, tropical forests, spectacular limestone cliffs and beaches.

Set on the southwest coast by the Andaman Sea and once a favourite hideout for pirates due to the number of islands and coves.

It would take you an eternity to explore this vast district, much of which has been designated as national park; so let us point you in the right direction for your visit to this gorgeous part of the country. Fortunately the pirates have now left the area to be replaced by those in search of beauty, relaxation and a little adventure.

Krabi is a secluded area of turquoise sea and tropical forests, spectacular limestone cliffs soar out of the ocean.

It is an idea area for snorkelling, diving and rock climbing. The main tourist area is Ao Nang beach, where many hotels, gay friendly bars and restaurants line the beach road and those that run inland.

The gay friendly beach here is quite narrow but long-tail boats run throughout the day to the many tiny islands and coves that dot the nearby shoreline. Less crowded than Phuket and more laid back than Koh Samui, the province of Krabi has become a favourite for those who desire romantic isolation in an unspoilt paradise.

Once you have found yourself your own little beach, your favourite restaurant and a perfect spot for watching the sun go down over the sparkling Andaman Sea, you will come back here again and again.
Krabi