TLV Gay Pride 2021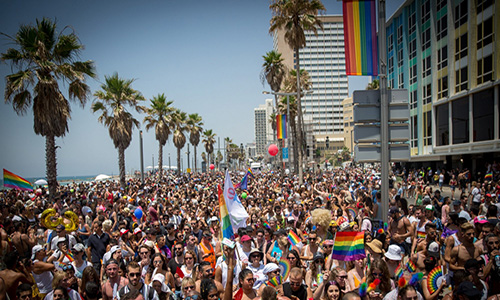 Ripped men in white underwear, pink bunny ears and black bow ties attached to some of the most beautiful men you'll ever see!

All gyrating through the streets and the beaches of Israel's Tel Aviv

Along with drag queens and others they dance to loud music for the annual Gay Pride Parade — the biggest event of its kind in the region, and now one of the biggest in the world.

Over 250,000 people celebrated at the city's 20th Gay Pride Parade, an event that draws people from around the world to party at the Israeli beach city that has built an image of an oasis of tolerance for the lesbian, gay, bisexual, and transgender (LGBT) community.

Tel Aviv's annual parade stands in sharp contrast to most other cities in the region. Across the rest of the Middle East, gay and lesbian relationships are mostly taboo.

Tel Aviv pride is a two week festival, beginning on the 1st June.

Between the 1st and 15th June, Tel Aviv pull out all the stops. Exhibitions, Street Theatre, concerts and must see events abound all over the city and beaches. Many are free.

Then there's the hedonistic nightlife. Tel Aviv is a party city most of the year, but at Pride, it breaks out into something that needs to be seen to be believed. Great dance parties and pulsating clubs well into the early hours of sunrise are just part of the scene.

All our hotels are all available from the 1st – 15th June. Arrive anytime between these dates and stay for a minimum of 5 nights. If we see we are getting full, we'll add more rooms and or add additional hotels.

If that isn't enough, we have added some great gay trips to enhance your stay with, so that you get the very best out of your holiday time.
Tel Aviv Gay Pride 2021