Jerusalem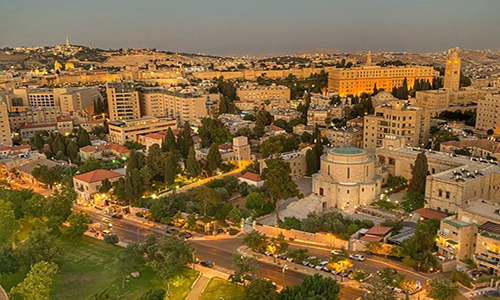 Jerusalem is an amazing city for a cultural trip, a historical tour or a city break.

Destroyed and rebuilt over thousands of years, Jerusalem's spiritual magnetism endures. With interlacing histories, clashing cultures and constant reinvention, the city is an intense, multisensory experience.

A historic melting pot that is the centre of three of the world's most important religions that everyone should see at least once. It has long been a place of pilgrimage for Muslims, Christians and Jews.

This along with numerous other places of interest will ensure that you will be walking through streets that ooze historical significance. It is a place that has changed hands many times, ensuring that its unique neighbourhoods have developed their own special character - with the bells of the Christian Quarter, the incense of the Muslim Quarter, the bright coloured pottery of the Armenian Quarter and the beauty of the Jewish Quarter all shining through like beacons.

Here, the past meets the present with the city's extremely rich history and a dynamic present, to be discovered on your city break.

Step back in time in Jerusalem's Old City, with its colourful bazaars, narrow cobbled streets lined with traditional cafes. The New City is awash with high street fashion and jewellery outlets, cosmopolitan restaurants and modern cafes.

Outside of the Old City it is a modern capital, providing great food, incredible culture and a vibrant nightlife, ensuring that Jerusalem has something to cater to every imaginable taste.
Jerusalem City Break
Sorry, no hotels can be found at this time.