Red Centre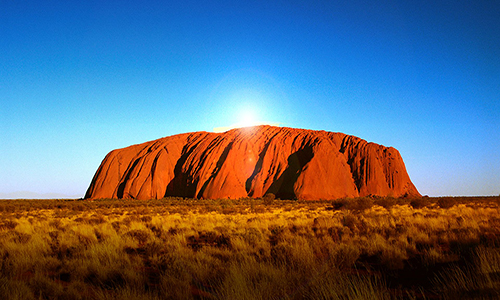 Sometimes it seems that everything in Australia is enormous. And many things certainly are.

This viewpoint is best demonstrated when gazing at Ayers Rock. It rears 348meters above the land and has a circumference of about 9.3 Kilometers.

It's bloody massive! The local aboriginal people know Ayers Rock as Uluru, and its easy to see why they place such a high value on its spiritual significance.

Few superlatives do justice to Uluru, and your first sight of this famous monolith may well take your breath away.

This is the very heart of Australia, surrounded by miles of red desert, and the Rock stands testament to thousands of years of Aboriginal culture.

It is no longer possible to climb Uluru, and for good reason, but a lesser-known marvel of Australia's Red Centre, King's Canyon is an extraordinary chasm of sandstone walls, plunging 270m down to a tropical oasis at its base, and just as great for some adventure.
Red Centre
Sorry, no hotels can be found at this time.