The Bandara
Health & Fitness: Swimming Pool Hotel facilities: Bar, Coffee Shop, Limited Room Service, Restaurant Included: Full Breakfast Optional Extras: Full Breakfast Property Type: Gay Friendly, Regular Hotel/Apartment Room Facilities: Air Con., Bathroom, CD / DVD, Hairdryers, Minibar / Refrigerator, Room Safes, TV, Tea/Coffee, Telephone, WiFi Walking Distance to, within 1km: Art Galleries, Gay Scene, Local Transportation, Museums, Restaurants, Shopping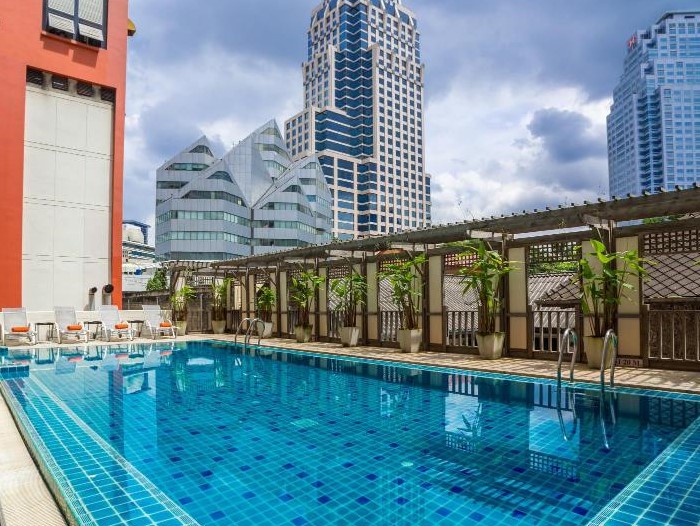 Located in the heart of Silom a short walk to Lumpini Park and the Sky train, you're well placed to discover the highlights of the city.

At The Bandara Suites, we endeavour to distinguish ourselves in many ways, and one of the most important of these is to ensure that the full range of amenities and conveniences are available to our guests, as needed, and at any time of day.

We offer breakfast and a buffet lunch, with a la carte dinner dining at our main restaurant. We also have a lobby bar, along with a wine bar and lounge.

If you would like to add some relaxation and personal attention to your travel itinerary, we also have a spa for you to visit. There is also a pool, Jacuzzi, and sauna available for you to wind down.

All these services are available not only to hotel guests, but also to those staying at our serviced apartment in Silom, which is right next door to the hotel.

All rooms are furnished to a high standard and offer the facilities of a 5* property. Room types vary from Superior to Suites. A Japanese restaurant and Café are on site, with 24 hour room service on offer.
Director's take