Rest Detail
Hotel facilities: Bar, Coffee Shop, Direct Beach Access, Limited Room Service, Restaurant Included: Full Breakfast Optional Extras: Dinner, Lunch Property Type: Boutique Style, Gay Friendly Room Facilities: Air Con., Balcony / Terrace, Bathroom, CD / DVD, Hairdryers, Iron / Ironing Board, Minibar / Refrigerator, Room Safes, TV, Tea/Coffee, Telephone, WiFi Walking Distance to, within 1km: Beach, Restaurants, Shopping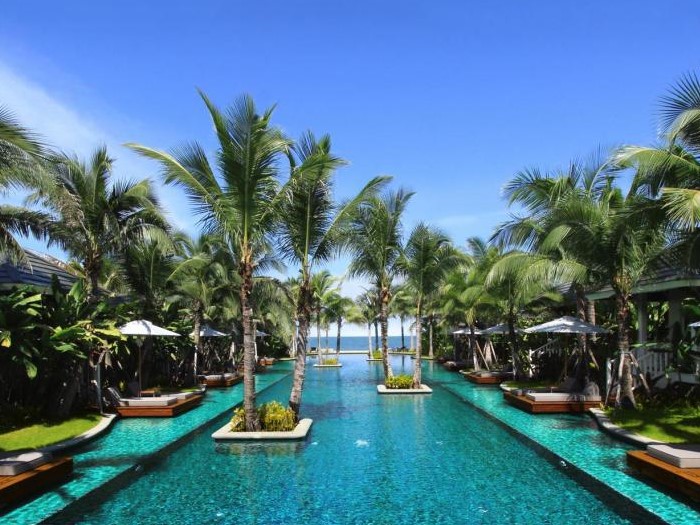 Surrender to Serenity of Rest Detail Hotel, Hua Hin

Understated seaside elegance, traditional grace, complemented by warm homely touches and pops of modern flair, Rest Detail Hotel Hua Hin invites you to discover our exquisitely designed resort set in a peaceful enclave just out of Hua Hin town.

A charming setting, spacious yet incredibly cosy rooms, luxurious two – four bedroom Pavilions with private swimming pools. Recreational facilities to help you relax, delicious local and European dishes delicately plated for you to taste, meticulously put together for you to have the perfect break.

Combining exclusivity with service excellence, every detail is anticipated, every request is seamlessly completed, from the moment you check-in to the time you leave, we have created an experience for you to rest at ease.

Capture your sweetest moments at Rest Detail Hua Hin, where awe-inspiring architecture, dramatic scenery and picturesque gardens make for an incredible backdrop – the 'just right' venue for your Instagram shoot.

Share quality time at Rest Detail Hua Hin; discover memories you'll cherish the most. Let us be the place you choose to getaway, let us be your gracious host. We look forward to welcoming you; we hope you'll enjoy our home.

Warm tones, elegant furnishings, and modern facilities – our handsomely appointed guest rooms at Rest Detail Hua Hin radiate comfort.

Padded silk duvet, super soft bed, private bar, flat screen LCD TV, DVD player and iPod docking station to keep you entertained, complimentary WiFi for you to stay connected – time tested amenities we have put together to make your room just right for a memorable seaside getaway.

Sleep in, chill out or explore the town – the choice is yours. Just know that we've put our all into preparing a cosy room for you, so you enjoy your break, whichever way you've imagined spending it.

Three great eateries. Smell the spices, taste the freshness, feel the sea breeze, discover the creativity. At Rest Detail Hua Hin, you'll find the very best Thai and International without even having to leave.

Breakfast is the most important meal of the day, or so we've been told. Not here. For us, all your meals are just as important. That's how we've designed your experience and that's how we want you to feel.

Eat in. Chill out. Have a rest.